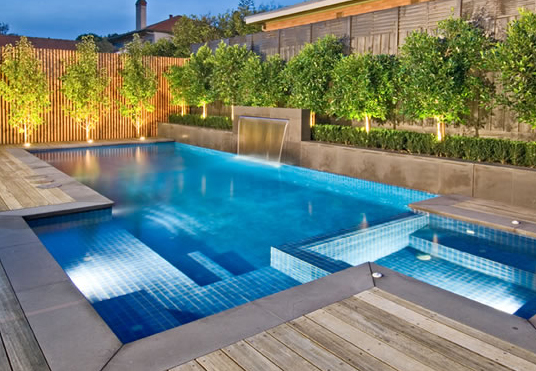 The secret to enjoying a pool for years to come is good design. Poorly designed pools are, needless to say, a nightmare and a total waste of money and time.  Before taking the plunge, consider these factors when designing this well-loved feature of your home.
The Pool's User and the Pool's Use
Who will use the pool and what it will be used for? These 2 W's are essential in design and will guide you and your design company in determining the shape, size, and model of the pool. The "who" may refer to a couple who enjoys entertaining, a family with small children with a love for the outdoors or teenagers who simply enjoy hanging out friends. The list can go on.   Another help in coming up with a good design is to determine the pool's use to the primary user. Will it be purely for entertaining, or will it be purely for sport related activities?
The Yard Condition
A rectangular pool may not work well with slopes or irregularly shaped yards. A good pool designer can envision what will work best for your needs.  Whether it's a rectangle or a free form pool, follow what your yard dictates.  Likewise, consider the size of the yard and its proximity to your home.  Knowing and feeling the yard will not only let you envision appropriate, shapes and designs but also overcome work challenges during the construction process.
Added Features
Aesthetics is key. After considering the primary user, yard and design of your pool, contemplate exploring special features that could enhance the overall look of the pool. Express your personal style! There are a myriad of water features and garden structures to choose from such as rock waterfalls, under water bubble jets, deck jets to LED lighting.
All told, designing a pool is all about you, your style and your space.
Are you planning to build a pool in your San Diego home? We at San Marcos Pool and Spa can custom design. We can transform your yard  into an oasis that reflects your personal taste and style.
Let's sit down and talk.