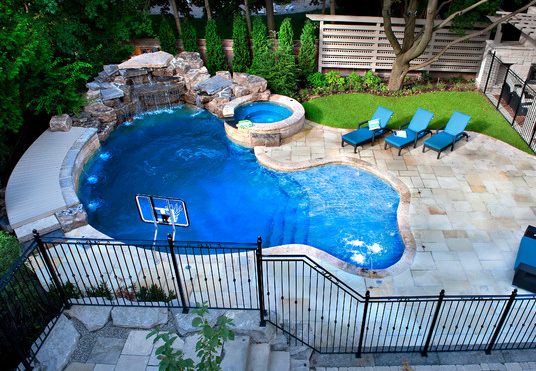 As the saying goes, home is where the heart is. The good news is you need not spend a relaxing weekend elsewhere if you start working now on transforming your backyard into an oasis. Given a complete makeover, a small or big backyard can be a family's affordable and comfortable weekend escape, a great place to host parties or a place to just laze around and watch the world go by.
Do you have a backyard that has been sitting drab and not serving any purpose for years? It's time to give it a revamp and maximize its use.
Here are some tips:
You can achieve a stunning backyard even with a small space. With a bit of creativity, this small yard can turn into a relaxing retreat featuring a custom small pool or spa and other landscaping features.
Tropical foliage is awesome during the daytime. Find beauty in these shrubs and show off their silhouettes at night with the right lighting.
If you have a bigger space, a pool waterfall is a great water feature to enhance the ambiance of your backyard. Whether your design is tropical or Mediterranean-inspired, pool waterfalls add tranquility and calmness to any space.
If your family loves hosting parties, a relaxing backyard patio could be an excellent solution for outdoor dining, entertaining and sunbathing.
For those who can't maintain green lawns well, opt for a bigger patio that you can utilize for activities that you normally do indoor.
Backyards have indeed leveled up their function making them a useful indoor extension for families –and guests—to bond and enjoy. Whether for a quiet retreat or a party of fun, backyards are here to stay.
(For your backyard makeover requirements, our company offers services other than constructing beautiful pools and spas. We do pavers, new light canisters installations, concrete, and pool studio design. Contact us for more information.)